PJ THORY SAYS HARSH PETERBOROUGH WILL MAKE ALL THE DIFFERENCE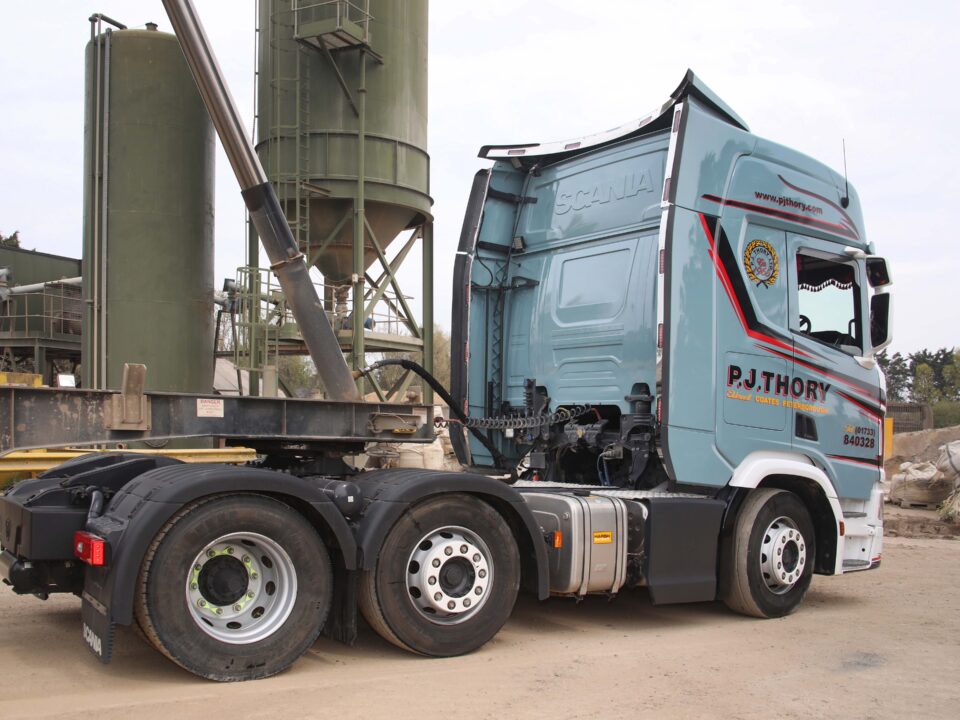 PJ THORY SAYS LOCALLY – BASED HARSH PETERBOROUGH WILL MAKE
ALL THE DIFFERENCE IN EASTERN ENGLAND
Cambridgeshire haulier PJ Thory Ltd has become one of the first tipper hauliers to take full advantage of HARSH's new depot in Peterborough by having the site supply and fit all their latest batch of 11 tractor units with HARSH wet kits.
"Local facilities and local people will make all the difference" says Ed Thory, "not just to get new equipment fitted quickly and efficiently but also when we want a speedy service response as well. HARSH Peterborough can now give us the full package and could not be better located for tipper operators in East Anglia and the East Midlands. It's exactly what we need."
Matt Bryant who manages the HARSH Peterborough facility says "the HARSH tractor kit has been designed to be powerful, reliable, simple to use and of minimal weight. It can also be configured to work with either one type of trailer, or many – including walking floors, ejectors and even liquid tankers. It's all about giving the customer the most efficient and practical hydraulics solution to their particular requirement. For customers in this area, there's now no need to send their trucks up to our HQ in York to have the equipment fitted there which obviously saves valuable time and money. And for the many truck dealers in Eastern England we can now offer a specialist hydraulics fitting service that's essentially local to them. In short – a better solution for everyone!"
Established in 1965, PJ Thory Ltd has grown into one of the Eastern England's largest and well known hauliers serving the agricultural, quarrying, construction, waste and recycling industries, building their business on the solid foundations of establishing trustworthy relationships and proven, reliable service.
Based outside the village of Coates near Whittlesey, the company has always invested in versatile, top quality transport equipment that includes both rigid tippers and artics, the latter working with a wide range of trailers including conventional multi-purpose tippers, walking floors and ejectors.
Of particular benefit, the HARSH wet kits fitted to the latest Scania tractors offer full functionality with each and every type of trailer, thereby maximising fleet efficiency and productivity.
"The HARSH wet kit is a highly practical, safe and easy to use system that complements our new trucks perfectly" adds Ed Thory.
As well as providing new equipment and backup for tipper operators, HARSH Peterborough also offers comprehensive support for users of other HARSH products such as skiploaders, hookloaders and sheeting systems.
As Harry Hustler, Business Development Manager for HARSH in south and east England says "More and more we are seeing traditional and long – standing tipper operators expanding their activities into complementary activities such as waste, recycling and environmental services. PJ Thory is a perfect example of this full-service, multi-function business approach and we are delighted to be playing even a small part in their ongoing success. 
Having a company-owned regional branch is something that in the truck hydraulics business is unique to HARSH. It's a clear sign of our particular commitment to the industry and will be of real value to truck operators throughout Eastern England."